How to Start a Guy Blog
September 13, 2022
Blogging is a Side Hustle
Blogging has become a real thing over the last decade. You're here now reading this right? Keep reading to see how to start a blog of your own.
More and more people, even guys, are making a significant amount of income from a blog. Some blogs bring in 6+ figures a year and have a team of people behind them. That may seem like a "too good to be true" dream, but actually requires a lot of hard work and time spent researching. This particular post has 10+ hours of work into it.
A blog is a good starting point to getting online, and then possibly expanding to ecommerce stores, membership sites, or online courses. But there is no right path. Some people are great at building up websites and then selling them online.
This guide will outline the basics of setting up a website that you can turn into a blog, store, portfolio, or whatever fits your needs.
While blogging as a business or a full-time career may not be your ultimate goal, there are some key strategies that will help your website perform better and attract a larger audience faster. You'll find these tips sprinkled in below.
Disclosure: When you use our links to buy products, we may earn a commission at no extra cost to you.
This in no way affects our editorial independence. See our advertiser disclosure.
The ultimate guide to starting a successful blog!
Step 1: Establish Your Audience (Not a Niche)
Before you even get started, you will have to determine if there is an audience for it. The biggest question to ask is "Who will read my blog?" or "Who will buy what I'm selling?…. You get the idea.
Some people start blogging for fun, and it slowly grows into a business—and that's great! But, if you're trying to build a blog from zero with the potential to turn it into a business, you first need to create a plan.
First of all: Decide what you will write about. Not just "dad tips" or "fishing". Go deeper. There is a balance to well-rounded content that can appeal to people with multiple similar interests. Here on this blog, it's a mix of firearm guides, fitness tips, outdoor hobby related content, fatherhood and finances, and a little bit of travel. Maybe some dad jokes here and there.
Second, determine how you will shape your content for your visitors. Who is the target audience? For Suburban Man Cave, is age 20 to 40ish men with interests in outdoor recreation, firearms, fitness, and other hobbies. But also ladies might find topics of interest to them. It's crucial to keep your target audience in mind always to create content they would like to read.
Next, research if there are already other websites writing about the same topics. If yes, ask yourself how you can do it differently or better. The key here is you need to distinguish yourself.
Write for your audience but don't forget to follow what you are passionate about. If you stick to this from the start, then you'll be able to create quality content.
A good rule to make your content stand out is by putting quality content first. That can include graphic design, epic photography, video content or other strategies that will give your site an identity.
Step 2: Get Your Blog Technology Setup
Now let's run through step-by-step of setting up a WordPress blog.
1. Think of a Name
Think about names that are memorable but not too specific. For example, if you name your blog "Dad of 2", well that could change if another baby comes. Be mindful that your name is part of your brand and should remain relevant as your blog grows.
So narrow it down and pick one. A lot of people can get stuck on this step, don't be one of them. It's better to get started than to not start at all. And it is possible to change the name later if you absolutely want to.
With your short list of names, check to see if the domain is available (that's the URL of your website) and that it's available on various social media.
2. Set Up Your Domain and Hosting
If this is your first time working on a website, you might not be familiar with certain terms. You'll want to know the difference between a domain and hosting. Sometimes, they are sold together, but they are different components.
Domain – is the URL of your website. To claim your website, you will buy your domain for an annual price.
Hosting – renting space on the internet for your website to be accessible.
A good option for hosting new sites is Hostinger. They are very affordable, reliable, and user-friendly with good customer service. You can get a free domain name registration with a hosting plan when you sign up. This is recommended for simplicity and avoiding extra work.
Deal For You: When you sign up through this link, you will get a free domain with 1 year of hosting for $2 bucks a month!
So get started, hop over to Hostinger and pick the Single WordPress plan. If this is a brand new blog, this plan is for you. You can always upgrade once your traffic starts ramping up.
On the next page select "new domain" and type your domain to confirm that it is available. As a rule of thumb you should try to get the .com ending.
Be sure to check the name multiple times for spelling errors! You don't want to register the wrong domain on accident.
Click "Connect to Hosting" and then "Add to Cart".
Don't worry about buying any add-on services. Finally, submit your order!
One nice thing about blogging is that there are not a lot of costs to getting your website set up Hosting is biggest expense of setting up a blog when you first start, but you just got an awesome deal!
Time to actually set up your website.
3. Set Up Your Blog on WordPress
WordPress.org is one of the most popular blogging platforms, and what we recommend. In general, WordPress is a great tool for beginners because of it has so many plugins and designs. Like anything new you will need to learn where everything is, but it's easy to find tutorials online, and there's a huge community around WordPress.
Try to steer clear of other platforms like Wix or Squarespace.
While they look easy to use, you end up paying way more to launch a website in the end, and are very limited with design and functions. WordPress is free forever and has endless themes and plugins for customization. Just start with WordPress from the beginning because migrating between platforms is a nightmare.
Now, let's set up WordPress. You need to get through the welcome emails and setting up passwords and all of that stuff. The goal here is to install WordPress from your Namecheap portal and then go to the WordPress login screen. Feel free to ask a support rep if you need help.
Once you have installed WordPress, you can access your site anywhere by navigating to this URL on your browser and substituting in your domain.
https://domain.com/wp-admin/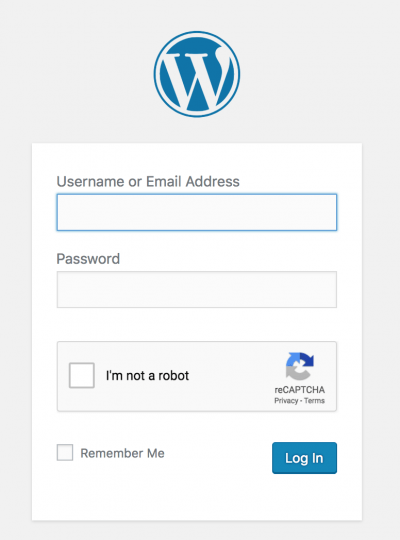 Get yourself logged in and you will see various tabs on the left side of the dashboard.
Posts — where you'll draft and publish blog posts
Pages — where you'll build static pages on your site, like an About or Contact page
Comments — where you'll approve, spam, or reply to comments on your blog posts
Appearance — where you'll customize the look of your blog, from installing a new theme to adding images, fonts, arranging widgets, etc.
Plugins — installing and updating plugins (or features) for your blog
Settings — adjust your site settings
4. Connect Your Blog to Google Analytics
Google Analytics is a free reporting tool for your web traffic and and other data about the activity on your site. It let's you see how many people visit your site, how long is spent on your site, where they're located, and more.
Instructions for setting up Google Analytics can be found on their website. And we also recommend getting the Monster Insights plugin so you can see your stats from your WordPress dashboard.
Step 3: Customize Your Site
1. Design & WordPress Themes
This is where the fun begins. A WordPress theme includes different layouts and colors that determine the look of your site.
There are plenty of options for WordPress themes online from marketplaces to individual developers. One of the best places to find the best themes out there is Envato Market (formerly called Themeforest).
But if you don't want to shop around and tinker with tons of themes. We have narrowed it down for you to two solid options. These two themes are proven, versatile, and powerful themes with tons of support around them:
Kadence Pro and Genesis Pro. Pick one and go!
Yes, there are free themes for WordPress, but it's recommended to invest in a premium theme to just save yourself some trouble later on. Next comes installing your theme on your site.
Downloaded the .zip file (don't unzip the file)
Log in to WordPress
Click on Appearance > Themes > Upload
Upload the .zip file you've just downloaded
Click Activate
You can always change out different themes, but after you have uploaded a decent amount of content it's best to not change themes. All code isn't perfect and you may lose bits and pieces when switching around themes.
Settle on a theme you like, but just like with domain names, don't get stuck on this step trying to get it perfect.
2. Logo & Appearance
Some WordPress themes can display your blog name in the header, and that might be okay when you're first starting out. Eventually you will want to get a custom logo or for your blog. No judgement here if you don't want to teach yourself Adobe Photoshop to create your logo – that can be extremely time consuming. If you're already a Photoshop Pro, then more power to you!
For total newbies, go with Canva Pro. It's great for designing all sorts of graphics! They have an inventory of thousands of templates, photography, and pre-made elements for just about everything.
No matter which theme you decide to use, a tool like Elementor allows you to build very custom pages for specific purposes, create pop ups, and many other things. This helps your website seem less like a cookie cutter theme.
3. User Experience
After your theme is installed, it's its good to think about making your website user-friendly. The way that someone gets around on your site is called the "user experience" (UX).
Refer to any of your favorite websites, and notice how everything is organized and grouped together. You might see drop-down menus or featured placements for their most popular pages.
Keep it simple and as you are creating content the empty spaces will fill up. Again, don't get bogged down over every detail. Create a general layout and with time you will be able to refine it to fit your needs.
An important component to build first is a main menu so that your readers can easily look around your site. Tip – make sure your theme has a search bar, but most do.
4. Helpful Plugins for Blogs
When you have time, you can explore different WordPress plugins and what they do that would be useful for your website. For example, some plugins can capture email subscribers, show your social media feeds, add custom contact forms, or make your website more secure.
A word of caution – only use plugins that will actually give your website value. Activating too many plugins will slow down your site substantially unless you have upgraded to a serious hosting plan. If your site does needs a lot of plugins or gets a lot of traffic then you might consider more powerful hosting from reputable companies like WP Engine or Liquid Web.
Some plugins are free, or they have a free version but can upgrade to get all the features. Here are some recommended plugins as you build out a full-blown website with multiple functions. You may not need all of them, but they are certainly helpful if you want them or find others that you like.
Step 4: Start Creating Content
1. Set Up Your Core Pages
Blogging is essentially just writing. If writing doesn't come naturally for you then get Grammarly to help you write credible content. Next, you should set up your main pages in addition to the blog posts. To create a new page or post, go to the left side of the WordPress Dashboard and click Pages > Add New. (or for a blog post, click Posts > Add New).
The difference between a page and a post is that a page will not live on the blog feed, instead it is a static page. A post appears in your blog roll usually by publish date and comes up for relevant searches. In a nutshell, your pages are more like pillars of the website. Your blog posts are the articles that you share on a more frequent basis.
About page – one of the first things new readers will do is look for an About page to learn about who you are. This is a good chance to make a good first impression, build rapport with readers, and share what they will get on your site.
Contact page – make it easy for people reach out to you. Make sure to define what kind of emails you will or won't respond to avoid spam. With a contact form you don't need to post your email address while still being able to connect with people.
Growing your site means creating more pages to feature your top blog posts and promote whatever you are doing. That will depend on what you want to offer you audience – courses, ebooks, physical products, coaching, etc. Take baby steps, remember that everything doesn't need to be perfect to get started.
2. Understand the Basics of SEO
Creating valuable content consistently for your niche is key good SEO. This means that search engines are more likely to show your content in search results. Before you start writing, get familiar with SEO and using keywords.
The goal is for people to be able to find your content on Google search. Neil Patel's blog and Backlinko are helpful to learn the basics of SEO and implement them on your own blog from the start.
As you get more serious about competing in SEO, you can use tools like SEMrush to really analyze your competition for keywords you want to target.
3. Create a Content Schedule
As you're getting up to speed about SEO, plan out a content schedule. Figure out a consistent schedule that works for you that you can actually stick to. That could mean once a week or once a day depending on the amount of time you want to dedicate to your blog.
This is the reason your blog or website should be centered on something you are passionate about. If you have zero interest in gardening, then a blog about gardening will feel like a chore and eventually you will stop. But topics that you have knowledge about and find exciting will be much easier to create content about.
In order to gain momentum, there is no substitute for grinding to post as often as possible, whether that's you or your team. People need a reason to come to your site, and when they do, there should be something new and interesting. Thinking objectively as a reader of your own blog can be difficult so feedback from others can help guide you.
4. Create "Pillars" of Content
When you first start, it's best to stick to 2-3 categories that you can focus on and create lots of content for. Then, branch out from there to other similar topics. For example, a category could be anything from a specific sport, to a problem or a hobby. You could start with fitness, travel, and grooming… or perhaps parenting, gadgets, and finance.
Get three to five solid pieces of content published for each of those categories before you expand further. That way, if people can come to your site for any of those interests and will have enough to read.
5. Beautiful Images and Graphics
In this digital age everyone loves visuals. Most people are not going to stick around a site with only words. The best way to do this is to use high-quality images and graphics for each blog post you put out. A few starter tools you can use are Unsplash – for high-res, royalty-free images, and then Canva Pro for creating custom graphics.
5. Collect Emails
From the very beginning you should have a way to collect emails on your website. Each subscriber you gain is an opportunity for a return visitor and potential sale. After all they have given you their email contact so when you release something new and exciting you can tell them about it.
Email marketing is not dead, but it is a long term strategy that becomes more effective as your email list grows. OptinMonster is a powerful tool to create signup widgets and entice readers to subscribe.
Once you have collected emails, the next step is sending newsletters. A normal Gmail or Yahoo email account won't cut it. You need an email marketing platform that can manage your email list and where you can create attractive email content.
Get Response is that tool with tons of features to help you grow. It's also free to signup until you reach your first one thousand subscribers. Other email services can't beat that.
Final Thoughts
Before you take off to start hustling, you should know a few more tidbits. The easy part is getting the website stood up online. Growing it into a business requires countless hours of mostly unpaid work, consistency, and patience.
Let's be clear, blogging is not passive income. Most of the time people don't see all the effort that goes into writing, brainstorming, photography, revising, etc. If you want your blog to be successful, you need to start with beginner's mindset, motivation to share your passion, and no expectation that you will just make it overnight.
We can find lot of successful bloggers and think we can replicate their journey to that lifestyle by starting a blog. A lot of times, the work involved to run a blog isn't necessarily what person's interests really are. You may find that after building up a credible blog with some revenue, that you want to do something else with your time. Flippa is a great resource to sell a blog.
If you want to be successful, you need to enjoy what you do. With most regular jobs its the paycheck that justifies the work. With blogging, you're only accountable to yourself for the results or lack of, but you can also go at your own pace.
Blogging does not mean recording evert day of your life, some people blog anonymously (kinda like here). Answering emails and posting to social media can get to be overwhelming. However, if you can mingle your passion with the work (with or without a big audience), then it can become a rewarding endeavor in many ways.
You May Also Like
October 5, 2022
August 4, 2022
September 14, 2022